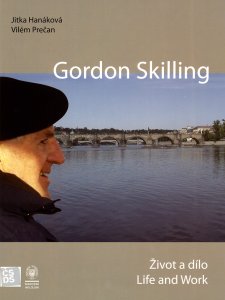 H. Gordon Skilling - Život a dílo / Life and Work
Jitka Hanáková, Vilém Prečan
Československé dokumentační středisko, o.p.s., Národní muzeum | Praha | 2012
Stran 103 | Vazba brož. | Cena Kč 250 | ISBN 978-80-7036-347-8 (NM), 978-80-904228-6-5 (ČSDS, o.p.s.)
| Anotace | PDF
Tuto publikaci si můžete objednat. Více informací.
Anotace
The exhibition 'H. Gordon Skilling: Life and Work' is part of a programme commemorating the 100th anniversary of the birth of this important Canadian historian, political scientist, and Slavist. A private view of the exhibition took place immediately after the international conference 'Skilling's Return to Prague: The Work of H. Gordon Skilling in the Light of Contemporary Research'.The conference was held under the auspices of the Minister of Foreign Affairs of the Czech Republic Karel Schwarzenberg, at the Klementinum and the Czernin Palais, Prague, on 27–29 May 2012. The exhibition, in Museum Kampa, is open to the public from 30 May to 5 August 2012.
This catalogue includes a number of photographs and written material, which, because of their size, could not be included on the exhibition panels. It is divided into twelve thematic sections, which in sum present, from various angles, the individual stages of Skilling's life and the most important results of his scholarly work.
The photographs, written documents, and objects in this publication were lent from the archives of the 'Czechoslovak Documentation Centre 1948–89' department of the National Museum (Prague), the archive of the Czechoslovak Documentation Centre (Prague), the Security Services Archive (Prague), the University of Toronto Archive, the personal archives of David and Peter Skilling, the personal archive of Jaroslav Kořán, and the personal archive of Cathy Francis.