Ludmila Šeflová-Hanušová (1928–2017), bibliographer in exile
The death has been announced at the age of 88 on 13 May 2017 of Ludmila Šeflová-Hanušová, librarian, teacher and tireless bibliographer. In exile in the Netherlands for several decades, she mapped and noted the literary works of Czechs and Slovak authors published in the West after 1948. Her first published work was the handbook Bibliografie literatury vydané českými a slovenskými autory, 1948–1972 (Bibliography of literature published by Czech and Slovak authors, 1948–1972) (Cologne: Index, 1978) with 2,600 entries. An expanded version covering 1948–1978 published in 1993 by the Institute for Contemporary History contained double the number of entries. Her final opus magnum, České a slovenské knihy v exilu. Bibliografie 1948–1989 (Czech and Slovak books in exile. Bibliography 1948–1989), was published by the Czechoslovak Documentation Centre in 2008 and lists 9,351 works. In honour of the author we have made this monumental bibliography accessible in electronic form (Czech only).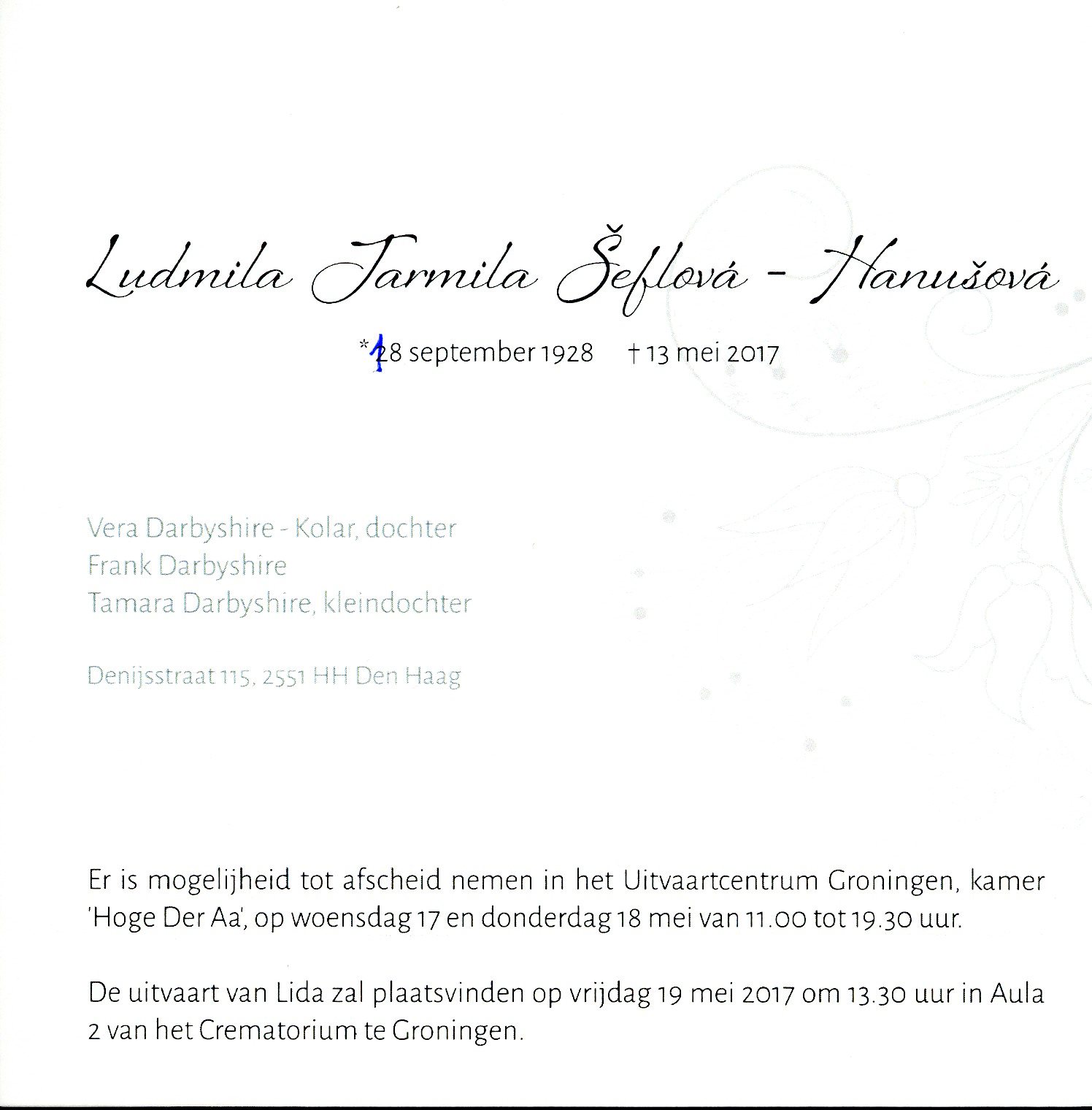 Ludmila Šeflová-Hanušová
Ludmila Šeflová-Hanušová was born on 18 September 1928 in Uherský Brod, where she graduated from the local Gymnasium. From 1947 to 1952 she studied at the Prague Arts Faculty and from 1950 worked as a teacher and eventually deputy headmistress at the primary school in Vejprty. In 1955 she moved to the primary school in Kyselka near Karlovy Vary, where she was headmistress until 1960. She then entered the Institute for the Further Education of Teachers in Karlovy Vary. From 1965 to 1970 she served as a school inspector in Karlovy Vary, in 1970 also as headmistress of a primary school in Karlovy Vary. During "normalisation" she fell into disfavour and in 1970 she was dismissed. She therefore decided to emigrate to the West with her family.
Ludmila Šeflová and her family settled permanently in Groningen in the Netherlands and in 1971 she entered the university library where she worked as librarian for Slavic Studies until she retired in 1993. Here she began her many years of work on the bibliographies of Czech and Slovak exile literature. Some of her work was published in Pavel Tigrid's periodical Svědectví, to which she regularly contributed from 1980 (no. 60) until the closure of the journal in 1992 under the rubric "New books by Czech and Slovak authors and about Czechoslovakia". She was a member of the Society for Arts and Sciences in America and of PEN Club.
Ludmila Šeflová was twice married – from 1950–1964 to M. Kolář (1928–1965), with whom she had two daughters and a son, and from 1970 to J. Šefl (1912–1997).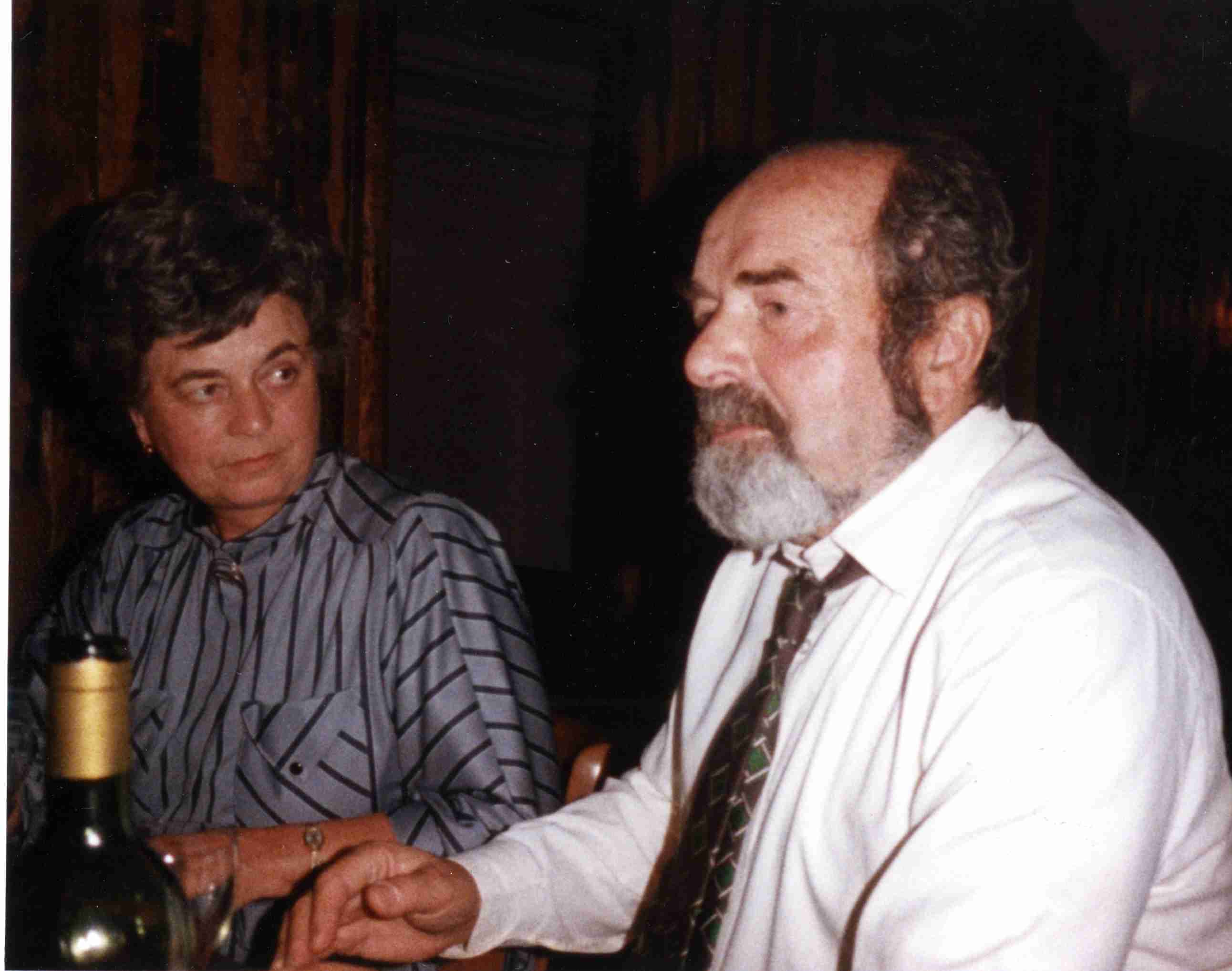 Ludmila Šeflová with Pavel Tigrid, © Národní muzeum
Selected works:
Dr. Edvard Beneš: een bibliografie, october 1938 – mei 1945. Groningen, 1976.
Bibliografie literatury vydané českými a slovenskými autory v zahraničí, 1948–1972. Cologne: Index, 1978.
Knihy českých a slovenských autorů vydané v zahraničí v letech 1948–1978 (exil): bibliografie. Prague: Ústav pro soudobé dějiny AV ČR, Brno: Doplněk, 1993.
České a slovenské knihy v exilu. Bibliografie 1948–1989. Prague: Československé dokumentační středisko, 2008.
Odkazy