Paul Wilson, holder of the Revolver Revue Award
The Award of the cultural journal Revolver Revue has been presented to the Canadian translator, journalist and musician Paul Wilson. "Paul Wilson has received the Revolver Revue Award for everything he has done and still does for Czech culture over these long decades. During Normalisation, he did not simply work at a distance, in the relative security of the free world but from his own choice right here in totalitarian Czechoslovakia – on behalf of the independent, underground culture, and thus with an awareness of all the risks involved. Many of the consequences, including in the end expulsion, were not pleasant for him. All this he did and still does with a remarkable nobility, selflessness, insight and humour. He can and should be in all things a true model for today's society," declared editor in chief of Revolver Revue Terezie Pokorná.
The Award was presented on 19 April 2017 at the RR Evening in the Roxy in Prague, with appearances by the groups WWW and Anatopia from Berlin; laudatia were read by the actors Ivana Uhlířová and Miloslav König. The previous day, Revolver Revue had organised a debate on the theme "How is Trump changing America?". This took place in the Špork Palace in Prague with the participation of Paul Wilson, the Anglicist Petr Onufer, the reporter Martin Weiss and the American Bohemist Mike Baugh.
The Revolver Revue Award was instituted by the journal in 1985, when it began to be published as a samizdat platform for the younger generation of the underground. Its recipients include the musician Tony Ducháček, poets Zbyněk Hejda, Ivan Martin Jirous and Jana Krejcarová, painters Pavel Brázda, Viktor Pivovarov and Rudolf Dzurko, and the photographers Karel Cudlín and Ondřej Němec.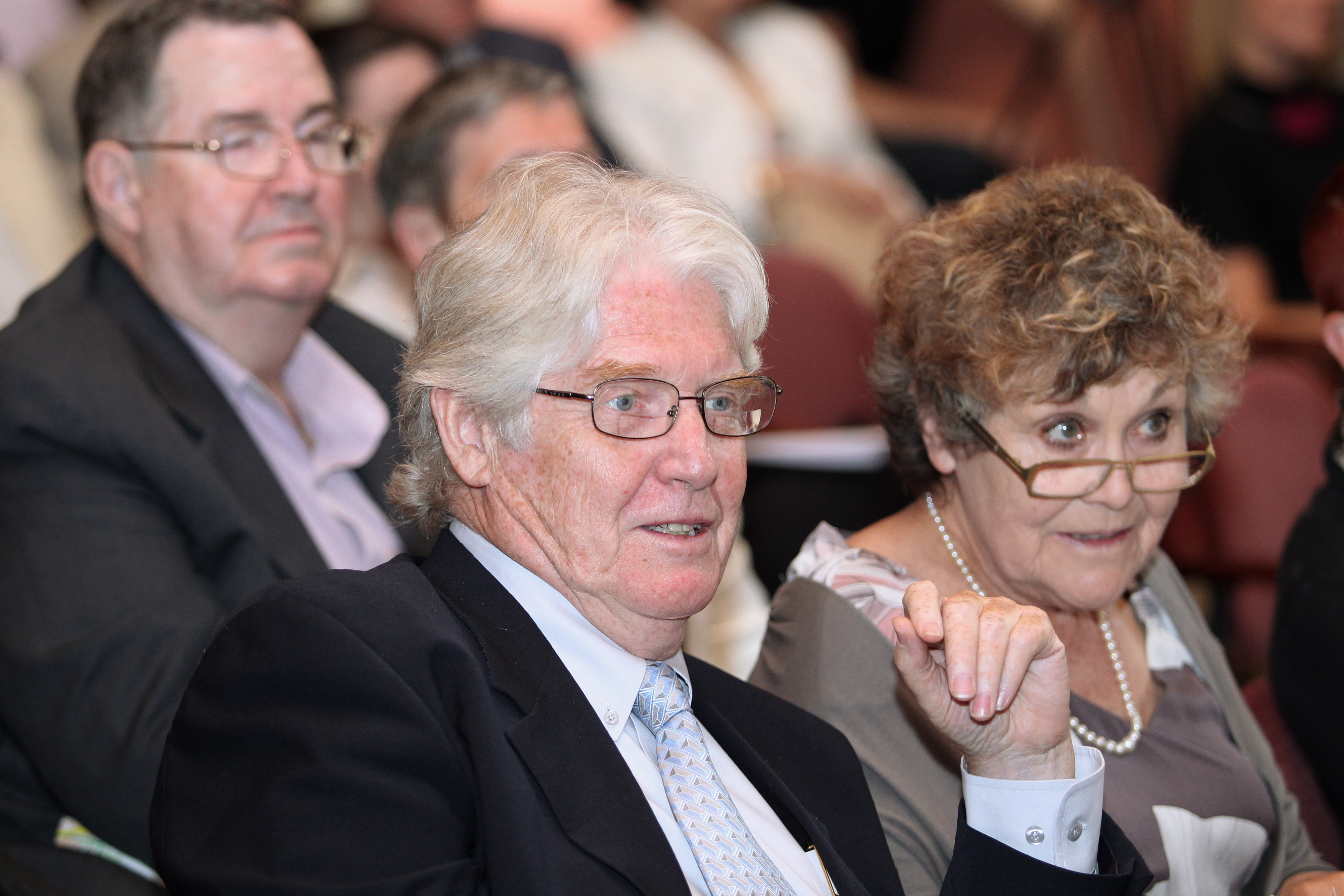 Paul Wilson, conference H. Gordon Skilling: Life and Work (2012)
Paul Wilson (b. 1941 in Hamilton, Canada) studied English at the Universities of Toronto and London. While in England he fell in love with the photographer Helena Pospíšilová, and at the same time became fascinated by the work of George Orwell, Marxism and life behind the Iron Curtain. For these reasons, he decided in 1967 to follow his partner to Czechoslovakia. Here he worked as an English teacher, learnt Czech, involved himself in cultural events and experienced the Prague Spring, August invasion and subsequent Normalisation.
Wilson was in close contact with the association known as the Křížovnické školy čistého humoru bez vtipu (Křížovnická School of Pure Humour without Jokes) – the artists Jan Steklík and Karel Nepraš, musician Vratislav Brabenec, artist and poet Eugen Brikcius, scriptwriter and translator Jaroslav Kořán and others. They had been meeting since 1963 in the Prague pub U Křižovníků (At the Knights of the Cross) in the street of the same name. In autumn 1969 he got to know the art historian Ivan Martin Jirous who a year later invited him to join the underground group the Plastic People of the Universe as singer and guitarist. Wilson thus became a permanent member of the Czechoslovak underground (he was a member of the Plastic People 1970–1972 and 1977) and was in contact with the dissidents – he helped a number of banned authors to translate their work into English, so they could reach a wider public. During the 1970s he earned his living as a translator of Czech works into English for the export publishing house for popular non-fiction and children's literature, Artia. The Communist regime considered Wilson persona non grata because of his interests, and had him followed by the secret police, looking for material that could be used for his expulsion – which took place in summer 1977, after they learnt about a concert given by the Plastic People in Rychnov u Děčína.
Before returning to Canada, Wilson founded a record label in London, Boží Mlýn Productions, with the exiled artist Ivan Hartel. In the course of time they published albums by the Plastic People and other artists, later in cooperation with the exile record label Šafrán 78, run by Jiří Pallas in Uppsala in Sweden. The first album to be issued was Egon Bondy's Happy Hearts Club Banned (1978) with the brochure The Merry Ghetto / Le ghetto joyeux, one of the first comprehensive reports of the Czechoslovak underground culture in a language other than Czech.
On his return to Canada, Wilson began to work as a journalist, essayist, literary critic and above all translator of Czechoslovak authors writing for samizdat or in exile (Václav Havel, Josef Škvorecký, Ivan Klíma, Bohumil Hrabal, Arnošt Lustig, Pavel Taussig, Zdeněk Mlynář…). Wilson consistently promoted not only modern literature in Czech and independent culture in general in the West but also publicised many documents issued by Charter 77 and the Committee for the Defence of the Unjustly Prosecuted (Výbor na obranu nespravedlivě stíhaných).
Wilson has contributed to the Canadian, American and British periodicals Books in Canada, The Idler, The Globe and Mail, The Toronto Star, National Post, The New Yorker, The New York Review of Books and others. He also worked on a long-term basis with the Canadian radio station CBC Radio, where he was involved in making programmes and documentary series (The Two Germanies, The Gorbachev Revolution). On Wilson's initiative, the Plastic People's album Passion Play (Pašijové hry velikonoční) was broadcast inter alia on this station, to great acclaim. From 1988–1992 he was the editor of the journal The Idler, later of Saturday Night (1998–2001) and National Post (2001–2003). He was a cofounder of the journal The Walrus (2003–2004).
As an editor, Wilson produced the anthology Prague: A Traveler's Literary Companion (1995) and, with the Canadian historian and Bohemist H. Gordon Skilling, the collected essays Civic Freedom in Central Europe: Voices from Czechoslovakia (1991). He is co-editor of the anthology We are children just the same: Vedem, the secret magazine by the boys of Terezín (1995) and co-author of the book 57 Hours (2003). He also contributed to the publication Zápisky obviněného: Diář Václava Havla 1977 (2016). The first collection of his essays came out in Czech in 2011 under the title Bohemian Rhapsodies: Český underground, disent, literatura a politika očima kanadského překladatele.
He has received the Governor General of Canada's Award (1984) for his translation of the Engineer of Human Souls by Josef Škvorecký; the Independent newspaper's International Translation Award (1993) for his translation of Ivan Klíma's short stories My Golden Trades; the Gratias Agit Award (2009), given by the Ministry of Foreign Affairs of the Czech Republic for promoting the good name of the Czech Republic abroad; and the George Theiner Award for 2013.
Paul Wilson lives in Canada, devotes himself to translation, and is preparing the anthology Havel on Theatre with Markéta Goetz-Stankiewicz.
A selection of translations:
Václav Havel: The Power of the Powerless [Moc bezmocných]. London: Hutchinson, 1985; New York: Sharpe, 1986.
Václav Havel: Letters to Olga [Dopisy Olze], London: Faber & Faber, 1988.
Václav Havel: Disturbing the Peace: A Conversation with Karel Hvizdala [Dálkový výslech]. London: Faber & Faber, 1990; New York: Knopf, 1990.
Václav Havel: Open Letters: Selected Writing 1963-1989. New York: Knopf, 1991; London: Faber & Faber, 1991.
Václav Havel: Summer Meditations [Letní přemítání]. New York: Knopf, 1992; Faber & Faber, 1992.
Václav Havel: Toward a Civil Society: Selected Speeches and Writings 1990–1994. Praha: Nakladatelství Lidové noviny, 1994.
Václav Havel: The Art of the Impossible – Politics as Morality in Practice [Umění nemožného]. New York: Knopf, 1997.
Václav Havel: The Beggar's Opera [Žebrácká opera]. Ithaca: Cornell University Press, 2001.
Václav Havel: To the Castle and Back [Prosím stručně]. New York, Toronto: Knopf, 2007.
Václav Havel: Leaving [Odcházení]. London: Faber & Faber, 2008.
Václav Havel: The Memo [Vyrozumění]. New York: Theater 61 Press, 2012.
Bohumil Hrabal: I Served the King of England [Obsluhoval jsem anglického krále]. New York: Harcourt Brace Jovanovich, 1989.
Bohumil Hrabal: Mr. Kafka: And Other Tales from the Time of the Cult [Inzerát na dům, ve kterém už nechci bydlet]. New York: New Directions, 2015.
Ivan Klíma: My Golden Trades [Moje zlatá řemesla]. London: Granta Books, 1992.
Ivan Klíma: Waiting for the Dark, Waiting for the Light [Čekání na tmu, čekání na světlo]. London: Granta Books, 1994.
Ivan Klíma: The Spirit of Prague and Other Essays [Duch Prahy a jiné eseje]. London: Granta Books, 1994.
Arnošt Lustig: Indecent Dreams [Neslušné sny]. Evaston: Northwestern University Press, 1988; Praha: Nakladatelství Franze Kafky, 2009.
Zdeněk Mlynář: Nightfrost in Prague [Mráz přichází z Kremlu]. New York: Karz Publishers, 1980.
Josef Škvorecký: The Swell Season [Prima sezóna]. Toronto: Lester & Orpen Dennys, 1982.
Josef Škvorecký: The Engineer of Human Souls [Příběh inženýra lidských duší]. Toronto: Lester & Orpen Dennys, 1984; New York: Knopf, 1984.
Josef Škvorecký: Dvorak in Love [Scherzo capriccioso: Veselý sen o Dvořákovi]. Toronto: Lester & Orpen Dennys, 1986; London: Chatto & Windus, 1986; New York: Knopf, 1986.
Josef Škvorecký: The Return of Lt. Boruvka [Návrat poručíka Borůvky]. Toronto: Lester & Orpen Dennys, 1991; New York: Norton, 1991; London: Faber & Faber, 1991).
Josef Škvorecký: The Miracle Game [Mirákl]. Toronto: Lester & Orpen Dennys, 1991; New York: Knopf, 1991; London: Faber & Faber, 1991.
Josef Škvorecký: The Republic of Whores [Tankový prapor]. Toronto: Knopf, 1993.
Josef Škvorecký: Ordinary Lives [Obyčejné životy]. Toronto: Key Porter, 2008.
Pavel Taussig: Blbé, ale naše / One (Party) Liners / Sprechende Schnappschüsse aus dem realen Schilda. Toronto: Sixty-Eight Publishers, 1987.
Discography of the record label Boží Mlýn Productions:
DG 307: Gift To The Shadows (Fragment) [Dar stínům] (1982)
Svatopluk Karásek: Say No To The Devil ‎(1979)
Charlie Soukup: Radio (1981)
The Plastic People Of The Universe: Egon Bondy's Happy Hearts Club Banned (1978)
The Plastic People Of The Universe: Passion Play [Pašijové hry velikonoční] (1980)
The Plastic People Of The Universe: Hundred Points [100 bodů] (1980)
The Plastic People Of The Universe: Leading Horses [Co znamená vésti koně] (1983)
The Plastic People Of The Universe: Midnight Mouse [Půlnoční myš] (1987)