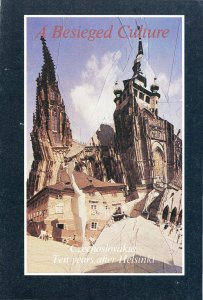 A besieged culture
Czechoslovakia ten years after Helsinki
A. Heneka, František Janouch, Vilém Prečan, Jan Vladislav (eds.)
Kniha byla publikována u příležitosti Evropského kulturního fóra, které se konalo v Budapešti v říjnu až listopadu 1985. Přináší informace, svědectví a úvahy o kulturní situaci v Československu v letech 1975-1985.
Charta 77 Foundation & International Helsinki Federation for Human Rights | Stockholm | 1985
Stran 300 | Vazba brož. | ISBN 91-970777-0-4
Obsah | PDF
Obsah
Editorial Remarks
Jan Vladislav Introduction
I. THEY SAID ABOUT CZECHOSLOVAKIA
Louis Aragon - The Biafra of Spirit
Heinrich Boll - The Cultural Cemetery
Karel Kosik - Letter to J-P. Sartre
Jean-Paul Sartre - Letter to Karel Kosik
Jaroslav Seifert et al. - Letter to Heinrich Boll
Heinrich Boll - Letter to Jaroslav Seifert
Harry Järv - "Normalization" in the Library System
Arthur Miller - The Sin of Power
Jiri Kolar - Kafk- a's Prague
Tom Stoppard Open Letter to President Husak
Philip Roth - The Romance of Oppression
Ivan Klima - Letter to Philip Roth
H. QUESTIONNAIRE
Editorial Note
Introductory Text and Questions
Vaclav Benda
Egon Bondy
Jiri Grusa
Vaclav Havel
Ladislav Hejdanek
Miloslava Holubova
Eva Kanturkova
Bozena Komarkova
Iva Kotrla
Marie Rut Krizkova
Miroslav Kusy
Frantisek Pavlicek
Lenka Prochazkova
Milan Simecka
Dominik Tatarka
Ludvik Vaculik
Josef Zverina
W.X
Y.Z.
Ill. REFLECTIONS 123
Jaroslav Seifert - Being a Poet Means Taking a Stand
Milan Kundera - I am Weighing my Words Carefully
Vaclav Havel - Six Asides about Culture
Josef Skvorecky - The Un Ii n ished End oft he Jazz Section of the Czech Musicians' Union
Jan Vladislav - Poets and Power
Iva Kotrla - Around the Abyss
Vlasta Chramostova - A Censored Life
Pavel Kohout - Life in a Graveyard
IV. CHRONICLE OF EVERYDAY REPRESSION
V. DOCUMENTS
Pavel Kohout - Open Letter to the Minister of Culture
Ludvik Vaculik - Impermissible Thoughts: A Letter to Kurt Waldheim
Vilem Precan - A Few Words about Historians
Milan Simecka - Letter to the General Prosecutor's Office
Miroslav Kusy - Letter to the General Prosecutor's Office
Lists of Forbidden Writers
VI. BIOGRAPHICAL NOTES
PERSONAL INDEX